Shipping Thanksgiving Goodies
When your friend or family member is far away, but you want them to be able to experience Thanksgiving just like always, nothing beats home-baked goodies to say, "I love you." Here's how we can help…
Wrap baked goods to create an airtight seal
Seal in that just-baked freshness with plastic wrap. Use shrink wrap for sturdy goodies like Bundt cakes and pies, and wrap plastic around more delicate cakes by hand. Freezing cupcakes and intricate iced cakes can also help them to hold up in transit.
Place cupcakes in a holder with individual spaces and press a candy stick into each cupcake to prevent a potential impact from the lid. Wrap cookies individually in shrink bags or heat-sealed plastic for professional-looking presentation. Pack them snugly in a tin or other sturdy container.
Wrap cupcake holders, tins and other containers in plastic to make them airtight, or seal all edges with sturdy tape.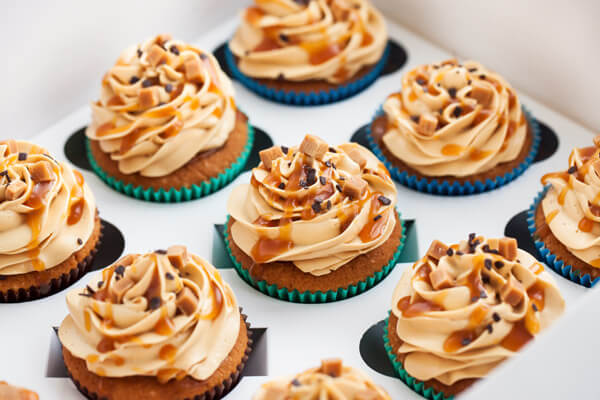 Packing refrigerated items
Use something insulated, like a Styrofoam cooler, to reduce heat transfer and maximize the amount of time your perishable food will remain cold.
Line the cooler with gel or ice packs. Make sure to use a sufficient amount so the box stays cool for the entire trip.
Label your package "Perishable Food – Keep Refrigerated."
If your items only need to remain refrigerated, gel or ice packs will be more than adequate. This is good to know, as there are certain restrictions around shipping dry ice.
Shipping frozen food
You can ship frozen food to another state, but not internationally. Frozen food requires the use of dry ice which is not allowed on international shipments.
Make sure the food item is thoroughly frozen.
Use a Styrofoam cooler or a cold-shipping box from PCA.
Handle dry ice with thick gloves or oven mitts. Dry ice is made from frozen carbon dioxide and is -109.3 degrees F. This makes it a hazardous shipping material, as there is the possibility it will explode if not packaged properly.
Write down how many pounds of dry ice you are using, because you will have to give that info to the shipping company.
Wrap the dry ice in newspaper and line the box with the ice. For the best results, place your frozen food in between the blocks of dry ice.
If the whole concept of shipping perishable items – particularly using dry ice – seems too much of a challenge, c'mon in to Postal Connections. We know how to do these things and we will send your perishable goods by the best service for optimum fresh delivery.
At Postal Connections we work hard to earn your trust every day. We thank you for your continued support and look forward to getting your fresh-baked cookies or frozen foods to the recipient right on time.
You can feel confident about visiting Postal Connections because…
Our staff is following health advisory recommendations: wearing protective face masks, washing hands, social distancing, and avoidance of handshaking and other cultural greetings.
We have advised our staff to stay home if they show any symptoms or have come in contact with those who have symptoms.
To protect our staff and customers, we require protective face mask or face covering to be worn while in the store.
We will continue to monitor the situation going forward to ensure customer safety. These measures will remain in place at Postal Connections® until further notice.
Find the Postal Connections store nearest you to pack and ship your home-baked holiday treats with loving care.