Two Hearts, Two Businesses
A local couple talks about being in business together
BY RICHARD SITTS
The married couple who works together thrives together.
OK, this might not prove true for everyone, but it's worked out well for Pete and Sue Pierce, owners of Postal Connections of America in the Forum Shopping Center in Bend, and Postal Connections Express inside the Walmart in Redmond. The latter store was opened about a year ago. May will mark 20 years for the Bend store.
So, how does a couple get along working side by side to run a business? "She's the boss," Pete says. Sue chimes in, "No, I'm behind the scenes."
Sue also offers this: "I've had friends say, 'I could never work with my husband.'" But Pete and Sue have managed it just fine over the years.
And how does that workload spread out?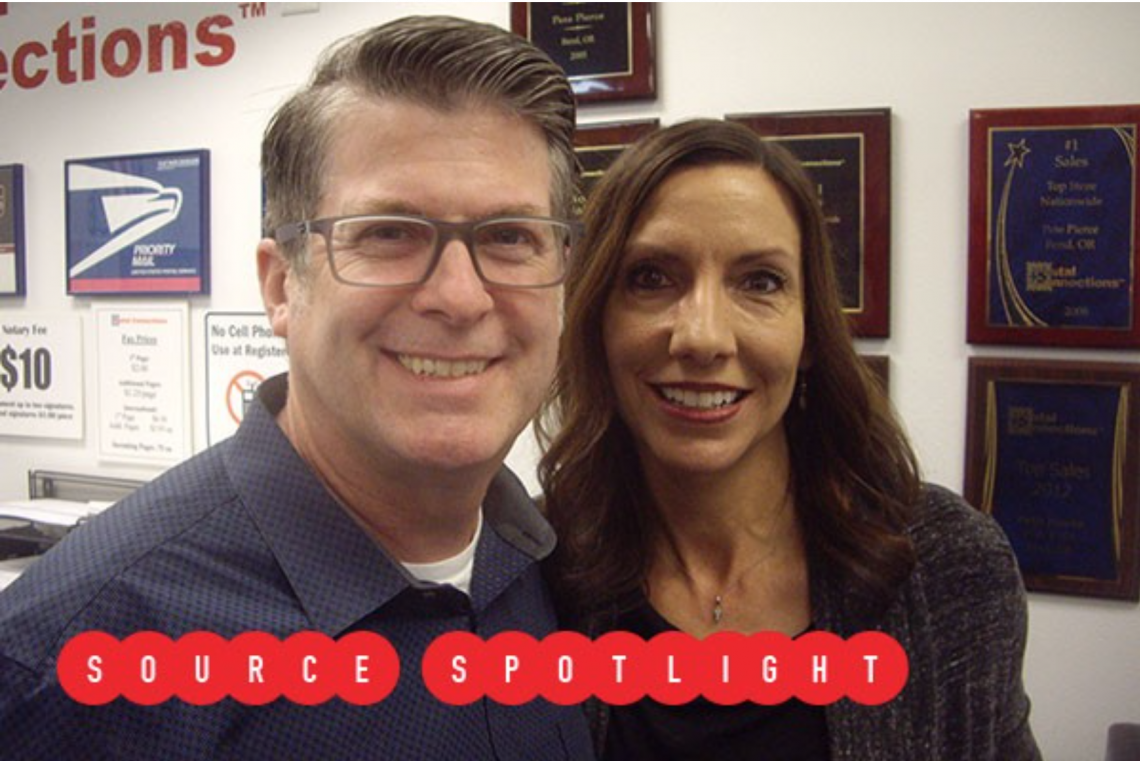 "It's hard to take vacations. It's putting all your eggs in one basket, but that's just part of owning your own business." —Sue Pierce
click to tweet
"I do mostly operations," Pete says. "She's the one who makes sure I stay grounded."
As far as job titles are concerned, Pete says, "We're all co-workers, we don't do titles. It was a team effort to get it going."
Pete and Sue have been married for 27 years and will celebrate 28 years May
19. Pete threw out the date with no hesitation, and Sue quickly added, "Good job! Brownie points!" Pete then revealed that he easily remembers the date because it's the birthday of Pete Townshend, of The Who.
So, what are the payoffs to working as a couple?
"The collaborative part is important, bouncing ideas off one another, using the partnership to implement ideas," Pete says.
Sue adds, "We can capitalize on each other's strengths and weaknesses, and it's pretty well balanced."
Pete says, "She's the voice of reason."
"And we like each other," Sue responds.
"She gets me," Pete says.
"And we're compatible," Sue counters.
"Growing your dream together is pretty exciting," Sue adds.
Do they have any advice for other couples considering going into business together?
"Just play to your strengths," Pete says, and Sue immediately blurts, "And communicate!"
"If you do that, you'll do great. And have a sense of humor," Pete continues. One more thing: "Don't take work home with you," he says.
And Sue offers, "Don't get too high on the ups, and don't get too low on the downs."
Speaking of which, are there any downsides to working as a couple?
"It's hard to take vacations," Sue says. "It's putting all your eggs in one basket, but that's just part of owning your own business."
The couple did work closely together for quite a while—about 17 years—before Sue took another job a couple years ago at Central Oregon Community College, mostly helping veterans tap their education benefits. These days, her time at Postal Connections is limited.
Pete says shipping, personal mail boxes and copying services combine to make up about 80 percent of their business. One of the more esoteric services they offer: electronic fingerprinting for background checks. "A lot of those have to be done these days," Pete says.
Of all the independently-owned Postal Connections franchises (37 in 18 states) their store has been number one in sales for the past 12 years.
They opened the very first Postal Connections franchise with just one part-time employee and carried on that way for many years, Pete says.
Pete and Sue say their workers are like a family. "We're really invested in them and they're invested in us. A lot of them have been here for quite a while," Sue adds.
The couple both spent time working at Kinko's, with Pete having about 10 years' experience before they started Postal Connections.
Pete originally is from Portland, while Sue was raised in Bend.
"We're Ducks," Pete claims, explaining that they met as students at the University of Oregon, and then had separate careers in Portland and Bend before joining forces. Pete smiles and shakes his head, admitting that two of their sons are now attending Oregon State University, while a third son is finishing high school.
And it can't be all work and no play.
"It's important to have outside activities," Sue says. Together, they hike and camp, and Pete also enjoys hunting. "Our goal is to do a lot more kayaking this year," she adds.